How to Identify House with Great Feng Shui Architecture
Author: David Hu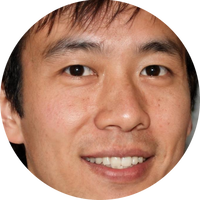 WordCount: 1716
Dream House or Lemon House?
Imagine this.
You have found your dream house after months of searching.
The price was jaw-dropping and attractive. And the house was gorgeous.
You are about to put down your precious dollars on the deposit.
Well, not just that.
You will also commit to a long-term mortgage! Unless you pay cash or have a lot of deposits.
Otherwise, hold your horses before you make that life-changing decision!
Why?
Because you want to avoid buying a lemon house.
A house is likely your colossal investment in life, and you don't want it to be your biggest regret.
You must also consider the feng shui aspect of the house!
Why feng shui? Because a house with bad feng shui affects the quality of your life.
First Step to Take
Ask your developer to provide you with a detailed house plan for a new house.
After looking at the environment, you must now turn your focus to the building of the house.
A few aspects you must consider:
Build up the area of the house

Appearance and shape of the building

Façade of house

The condition of the roof

The shape of the house plan
One more thing to emphasize here.
There is no such thing as a good house or a bad house.
In feng shui, it is a matter of whether such a building structure is suitable for a subset of establishments and occupants.
It's the same thing with shoes or partners in life.
A shoe may not fit your feet. But there's nothing wrong with that shoe. This is the same with a house.
Tàijí (太 極)- Heart of the House
There is a theoretical spot in the center of the house.
This little spot is where the Yin and Yang energy comes together.
So how do we find this spot?
Simple.
Just divide the house floor plan into a grid of 9 equal squares or 8 equal pie-shaped wedges.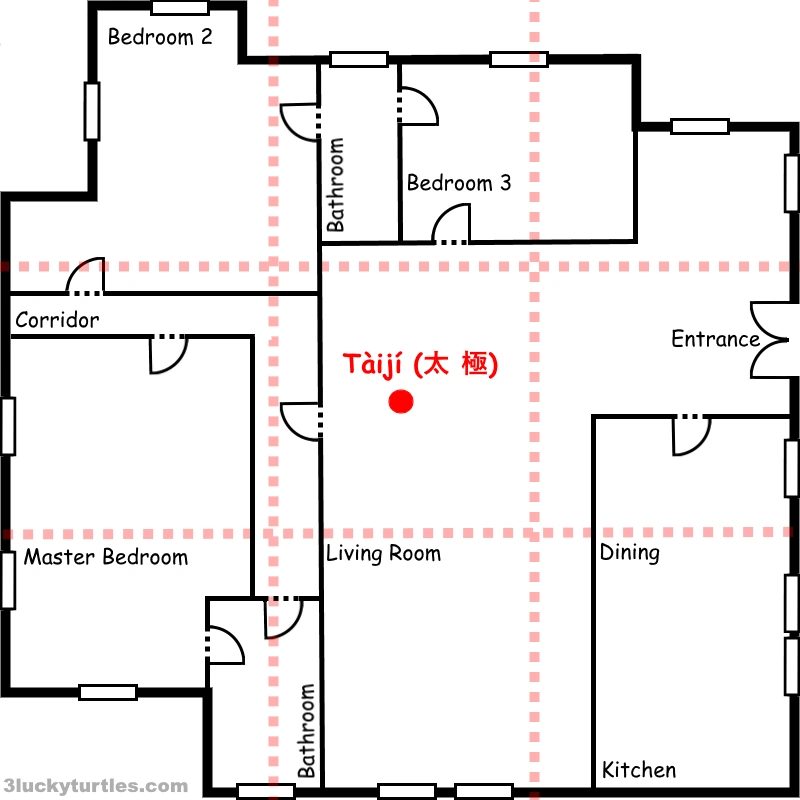 Tàijí is the theoretical spot in the house where qì coagulates.
This spot is super important in feng shui.
Tàijí is a house's heart, like a human's heart.
This is where the qì energy coagulates.
If this spot is harmed, it's akin to hurting a person's heart.
Remember this concept as we will come back to this later.
Façade of the House
A facade is the face of a house.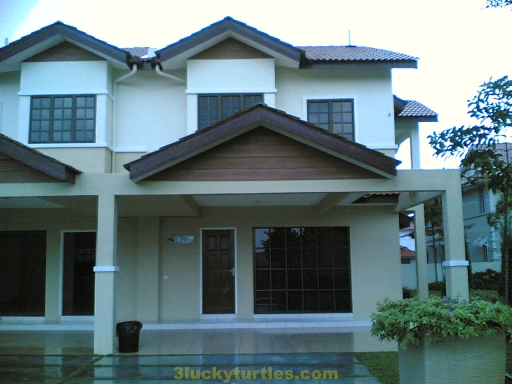 A house with good feng shui must have a façade that is standing upright and has a balanced shape.
Observe if the façade is balanced or not.
It must not be lopsided or asymmetrical, tilting forward or slanting backward.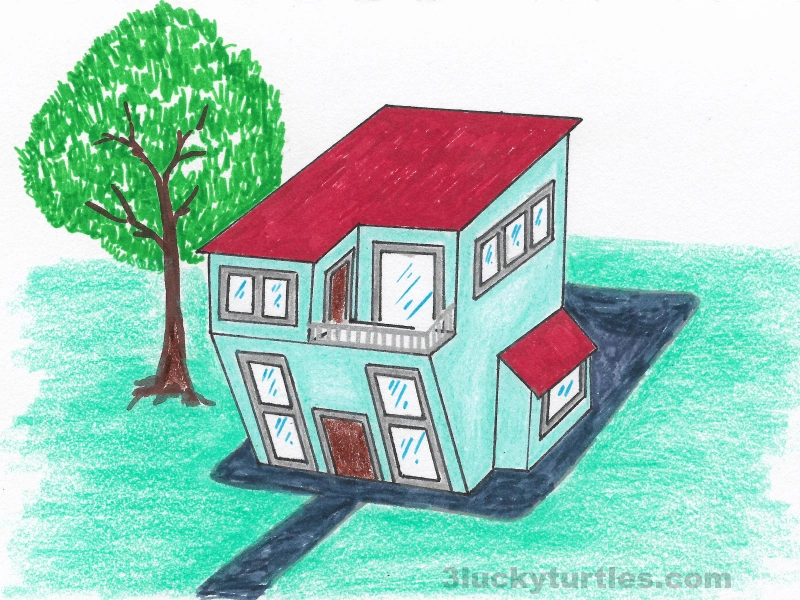 An asymmetrical house design like this is considered imbalanced and not conducive to the flow of qì.
The house design must be standing upright like a person.
A balanced and stable structure will allow qì energy to enter the building.
That way, residents can live harmoniously in the house.
Roof Shape
When you're meeting a person, what is the 2nd thing that catches your attention after the face?
Don't know?
It's the hair.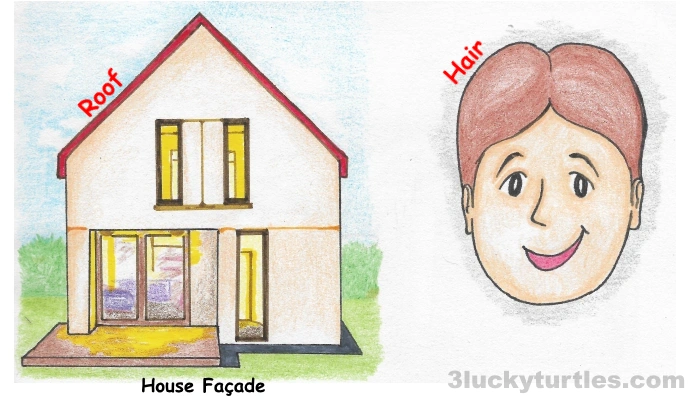 The roof of a house is the 2nd thing you would notice, just like a person's hair.
This logic applies to houses and any buildings as well.
The façade is the first thing you look at.
Then the roof. The roof is the hair of the house.
Like the façade, the roof must also balance.
A property that has a roof that slopes inwards at the center is a big design no-no in feng shui.
You may call such design aesthetic or unique.
But in feng shui, the center of the roof is preferably flat.
It's highly recommended they be slightly higher if not flat.
A flat or slightly higher center point of the roof shows balanced qì energy.
On the other hand, a roof with a center that slopes inwards exerts pressure on the property's central location- the heart of the property.
These roofs are called V-shaped roofs or butterfly roofs. Avoid houses with this kind of roof design.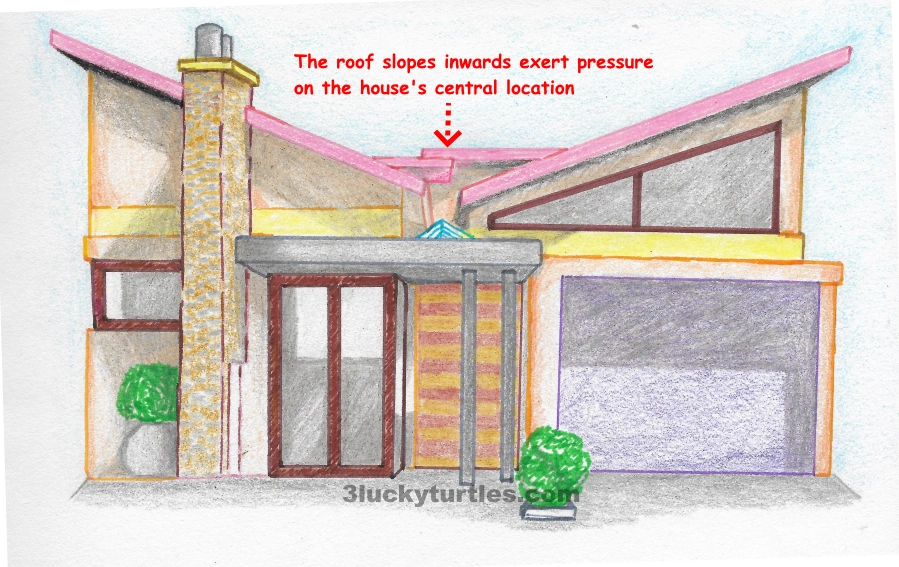 A house with a butterfly roof design is not good feng shui because it symbolically looks like a knife piercing into the house's center.
Remember the concept of Tàijí brought up earlier?
A roof that looks like this is akin to the tip of a knife piercing into Tàijí, the heart of the house- a disastrous feng shui attribute!
If the roof is slightly raised in the center, the design protects the heart or center of the property. The design also ensures that the qì energy at the center of the property is protected.
Triangular Roof
A property with sharp triangular roofs is known as a fire-shaped roof.
This means Fire qì is very strong in the property.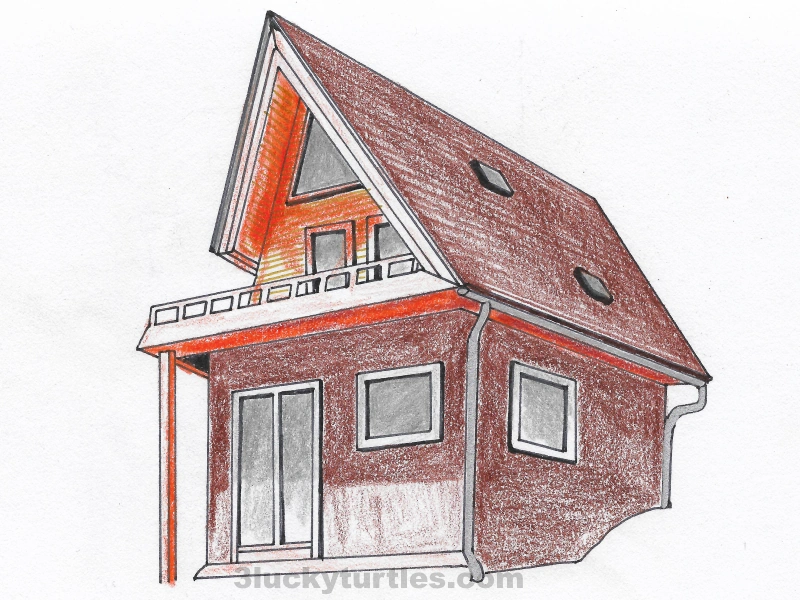 A house with a triangular-shaped roof may not be suitable for you as it has enormous Fire energy.
House with strong Fire qì is usually not peaceful but with an exception.
If Fire qì is a favorable element for that property's occupants, then this is fine.
Normally sharp roofs design is better suited for spiritual establishments such as temples and churches.
Flat Roof
The flat roof is representative of the Earth element.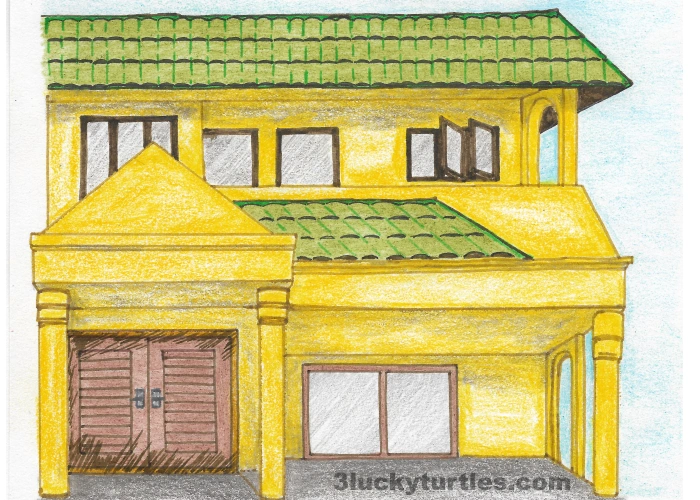 A house with a flat roof design is generally suitable for most people in feng shui.
This roof design is very suitable for buildings that require stability- educational institutions, businesses, and individual homes.
Asymmetrical roof
Asymmetrical or lopsided roof design means imbalanced qì.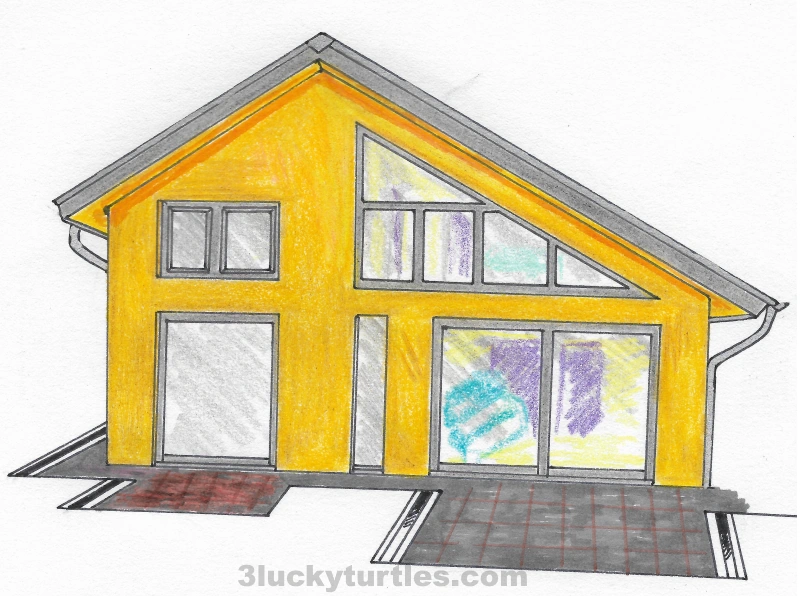 A house with an uneven roof design symbolically means it has imbalanced yin and yang.
If yin and yang are imbalanced, growth is abnormal, and emotions are unstable.
So, you must avoid a property with an asymmetrical roof at all costs!
Irregularly shaped roofs
Irregularly shaped roots or visible roofs are considered Water elements.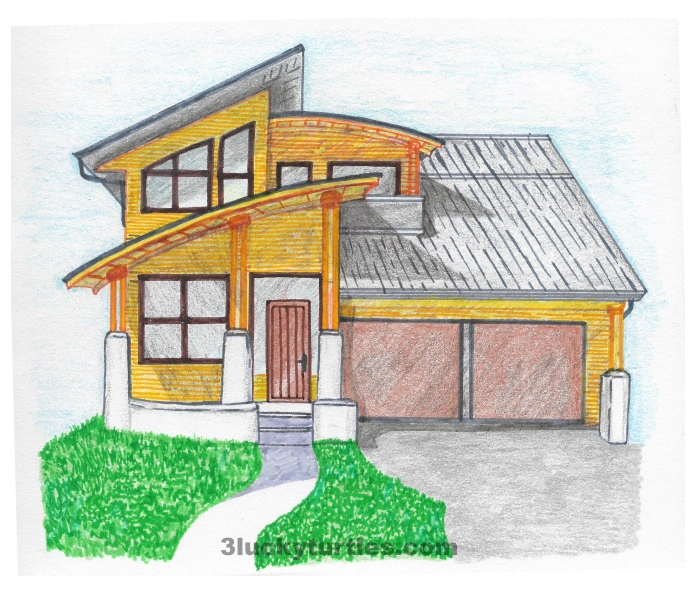 A house with an irregular roof design looks great but may not be suitable for an individual house.
Establishments that are suitable in such buildings – academic institutions like universities and schools. It is also suitable for house businesses related to trading, logistics, or shipping.
Dome Roof
Dome roofs design stands for Metal element. The metal element roof design is best for military and political establishments.
Protruding roof
These are roofs where a part of the roof protrudes outwards A protruding roof is considered a Wood element. Such roof designs are excellent for construction businesses and benefit occupants whose careers are teachers, preachers, and property developers.
Building Design
We have gone through roof and façade. Next is the building shape. A good building shape can harness qì in the surrounding environment.
U-Shaped House
A U-shaped house is generally not desirable because it lacks a middle section.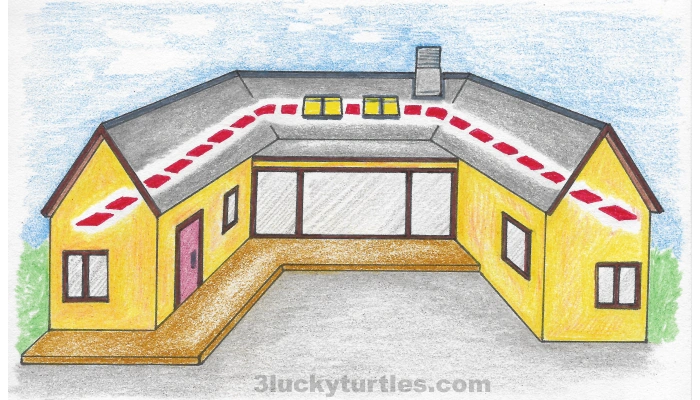 A U-shaped house has a missing sector in the middle of the area.
However, if the house is large enough with many rooms, then a U-shaped house looks like both left and right wings are embracing each other.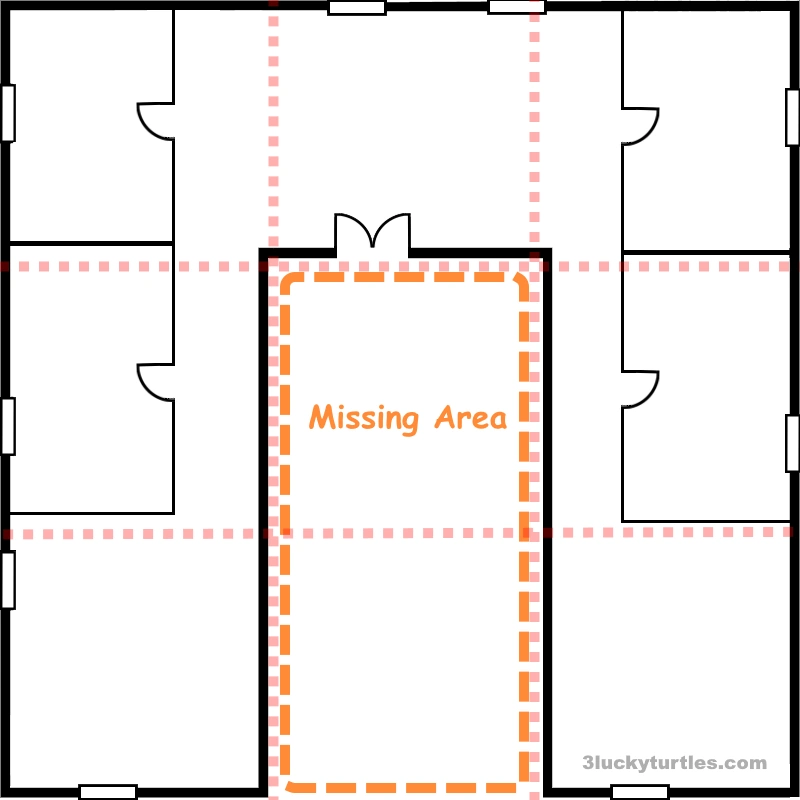 A U-shaped house design is poor feng shui as it is missing the middle section where Tàijí is located.
The design of the house can be improved by dividing the property into three separate sections.
L-Shaped House
In an L-shaped house, the center of the house is no longer inside the house.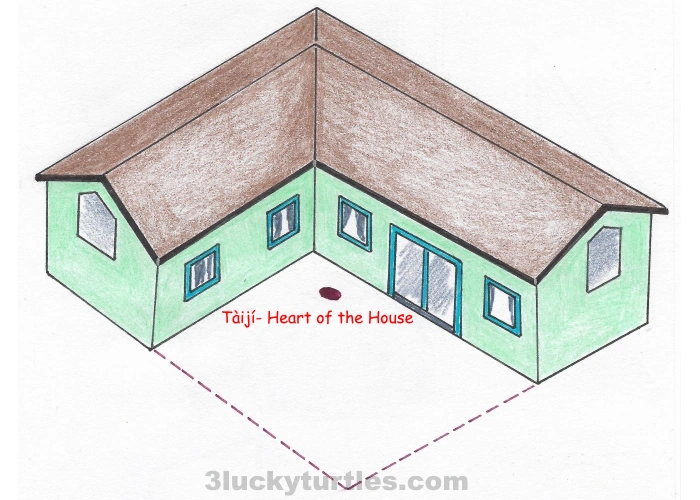 An L-shaped house is not an ideal house architecture as the Tàijí is outside the home.
If you draw a rectangular outline along the L-shaped house, you will find that the center of the house is now found outside the house.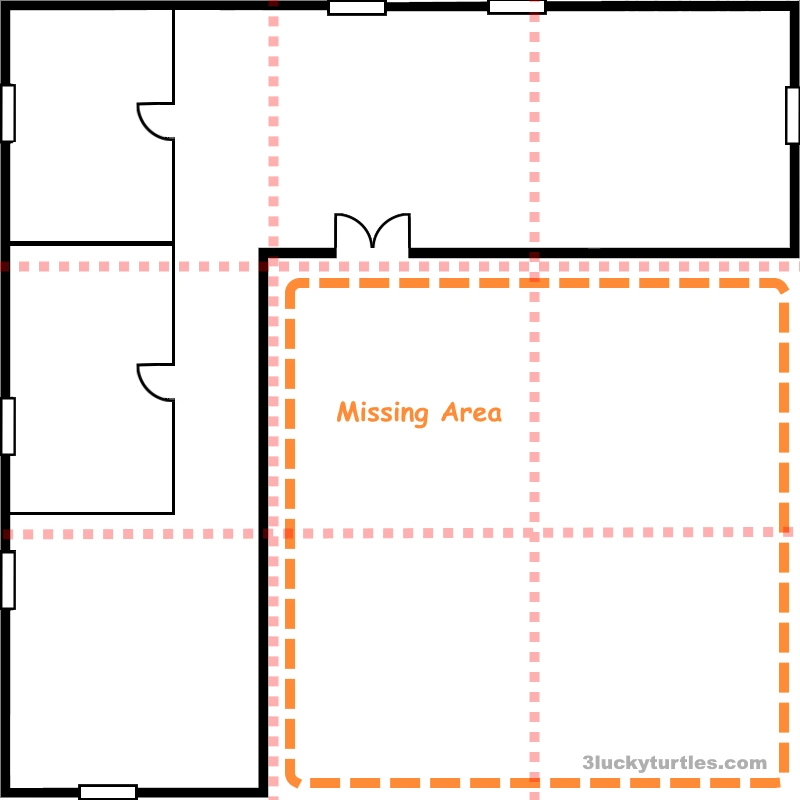 You may find a big missing area if you divide an L-shaped house plan into nine sections.
This means Tàijí is no longer inside the house and there is no protection for Tàijí. The outcome of this is occupants of the dwelling will not be happy.
Feng shui is extremely bad under such circumstances. The cure for this is to put up a fixed boundary right in the house to separate the house into two areas. This gives an illusion of having two separate rectangular-shaped buildings.
The pyramid-shaped building has the similar characteristic of having a roof with a triangular shape. It is also regarded as having strong Fire qì and is suitable to house spiritual-related establishments like churches and temples.
Pyramid Shaped Building
The pyramid-shaped building has the similar characteristic of having a roof with a triangular shape. It is also regarded as having strong Fire qì and is suitable to house spiritual-related establishments like churches and temples.
Square / rectangular-shaped house
This is the best shape property design in feng shui.
The house plan may not have a perfect square or rectangle.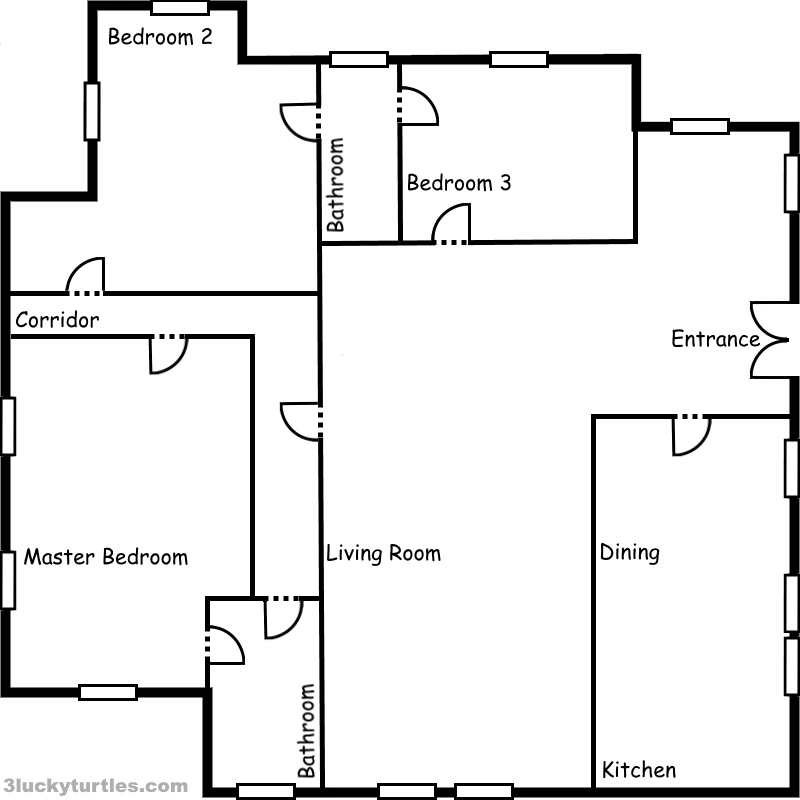 A square-shaped or rectangular-shaped house design is a perfect shape in feng shui.
But it would be fine if the house plan is not missing one-third of the property area.
A perfect technique to find this out is to divide the property plan into three sections.
Grab the plan and draw some lines to divide it into three areas.
Check if any of the sections are missing more than a third. If yes, then the house is considered to have an imperfect shape and not good feng shui.
To Wrap Up
Last words here.
Bottom line, the first step to identifying great house feng shui architecture is by avoiding attributes that are not good for you.
There are 3 aspects to examine when you are buying your house- the façade, roof, and building shape.
Great house architecture will have a balanced façade and roof and a perfect building shape like a square or rectangle.